UNITEDengue is the acronym for UNited In Tackling Epidemic Dengue (UNITEDengue), a network for cross border sharing of dengue surveillance information and knowledge on dengue control.
Cross-border case and virological dengue surveillance to allow timely sensing of dengue situation in the Asia-Pacific region
Regional capacity-building and strengthening for dengue viral and entomological surveillance
Regional capacity-building and strengthening for dengue control
Current members of UNITEDengue
UNITEDengue was jointly founded by the Ministry of Health Malaysia, Environmental Health Institute, National Environment Agency, Singapore and Universitas Andalas, Padang, West Sumatra, Indonesia. Ministry of Health, Brunei Darussalam, Lao PDR, Myanmar, Philippines, Thailand and Viet Nam are other ASEAN members. In addition, Ministry of Health, Sri Lanka and King Edward Medical University, Lahore, Pakistan are also the members of UNITEDengue.
National or State Health Ministries/Departments, Universities and Research Institutions at the forefront of dengue surveillance. Membership is free but is restricted to institutions only.
Members should be committed to:
the setting up of a local surveillance system and contribution of data to UNITEDengue
the facilitation and development of a mutually beneficial cooperation for dengue control
Members will be invited to nominate staff to participate in training courses, seminars and conferences on dengue virus surveillance and vector control.
Members who become our working partner in virus serotype and genotype surveillance network, will be given a one-year access to the UNITEDengue portal. This would enable them to contribute data for sharing with fellow partners.
What can members expect to see in UNITEDengue web portal?
Up-to-date disease incidence. Members can perform temporal and spatial analysis on disease incidence. Graphical analysis on the incidence of DF and DHF, proportion of circulating serotypes and information on emerging dengue genotypes can be performed.
Virus surveillance information. Members can deposit dengue virus nucleotide sequences, perform sequence alignment and phylogenetic analysis of the dengue virus envelope (E) protein gene. Sequence data can be uploaded for online analyses such as BLAST, sequence alignment and phylogenetics construction.
Lucid key for mosquito identification. Members can perform identification of Aedes mosquito at the larva and adult stage, using an innovative key developed by the Environmental Health Institute.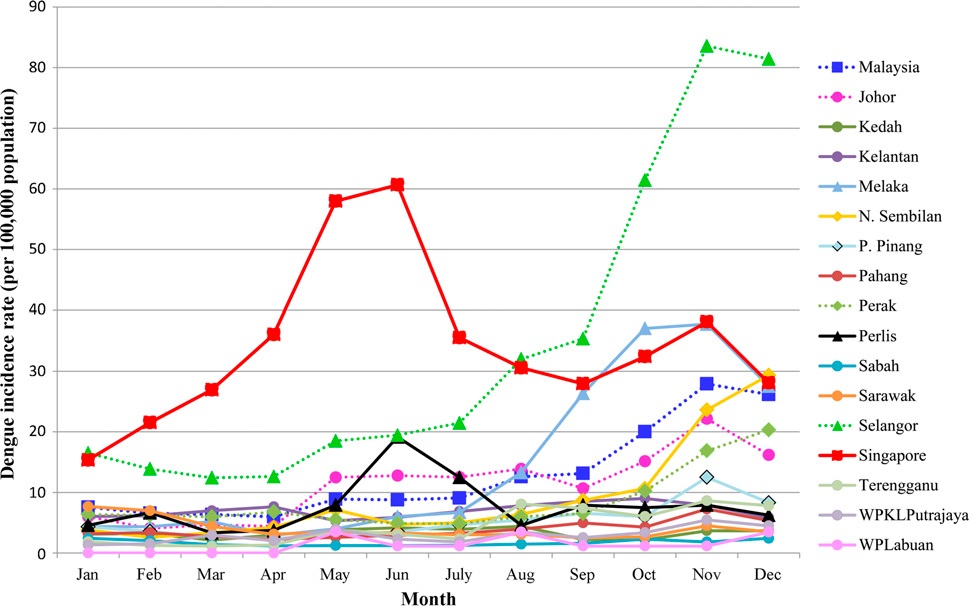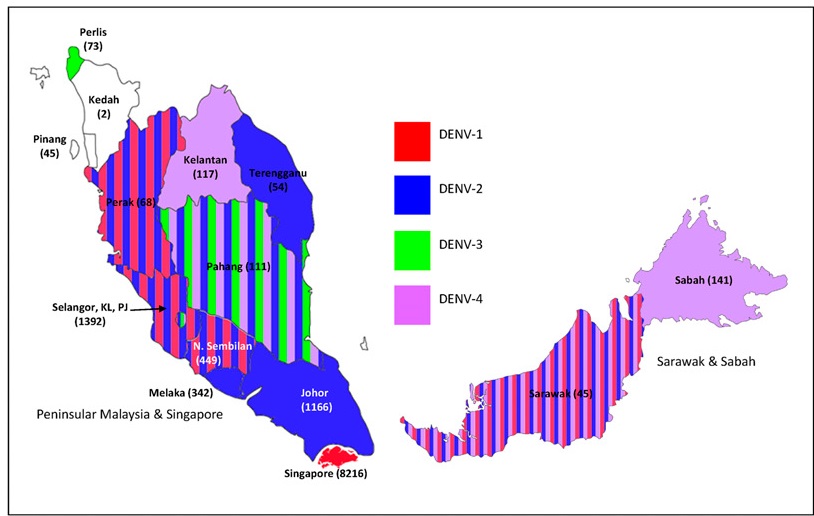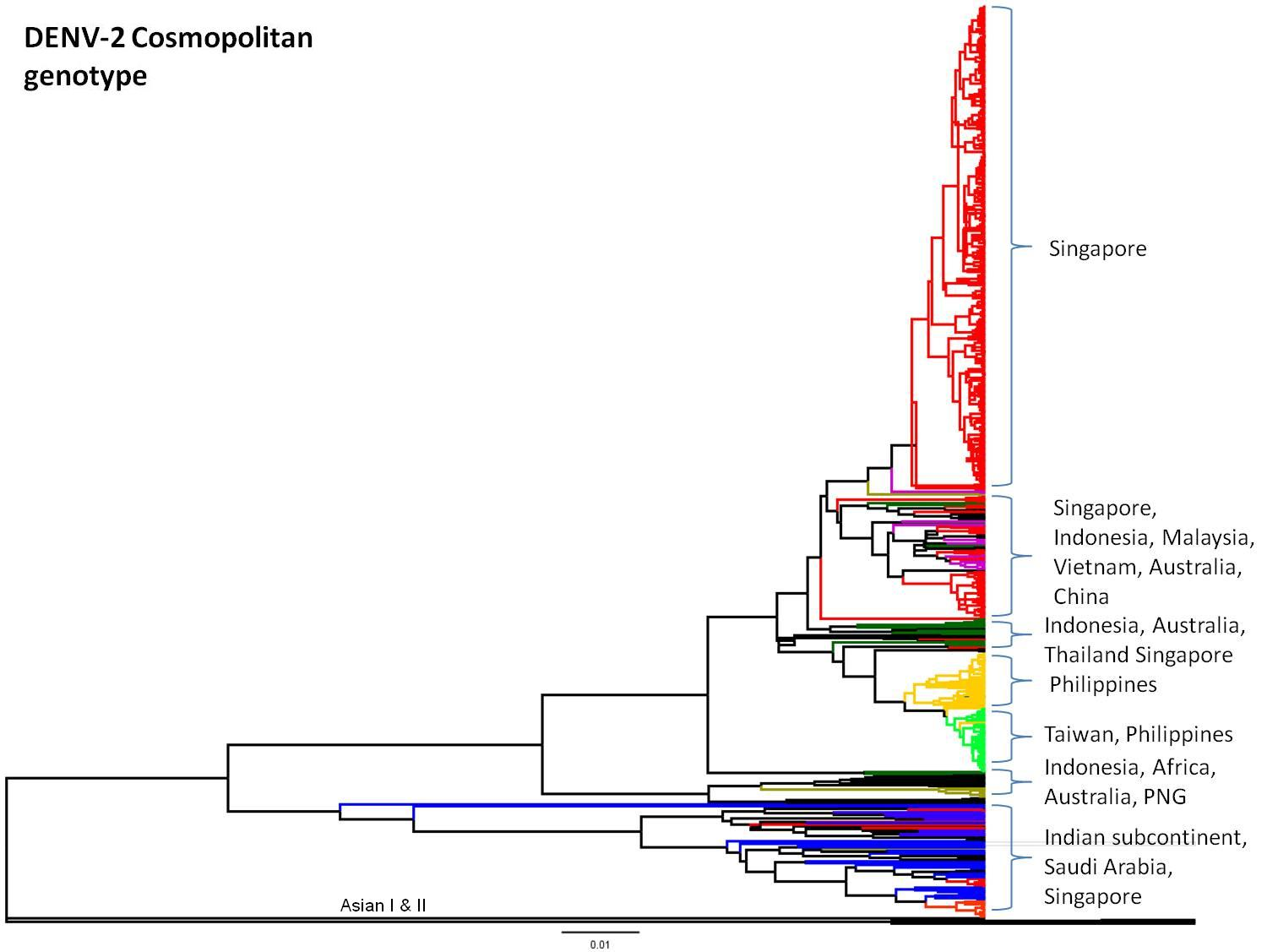 References
Ng, L.C., Chem, Y.K, Koo, C., Mudin, R. N. B., Amin, F. M., Lee, K.S., & Kheong, C. C. (2015). 2013 Dengue Outbreaks in Singapore and Malaysia Caused by Different Viral Strains. The American Journal of Tropical Medicine and Hygiene, 92(6), 1150–1155. http://doi.org/10.4269/ajtmh.14-0588
Lee K.S., Lo S., Siok-Yin Tan S.S.Y., Chua R., Tan L.K., Xu H., Ng L.C. (2011) Dengue virus surveillance in Singapore reveals high viral diversity through multiple introductions and in situ evolution. Infect. Genet. Evol. doi:10.1016/j.meegid.2011.10.012
Lee K.S., Lai Y.L., Lo S., Barkham T., Aw P., Ooi P.L., Tai J.C., Hibberd M., Johansson P., Khoo S.P., Ng L.C. (2010). Dengue virus surveillance for early warning, Singapore. Emerg Infect Dis, 16(5), 847-9.